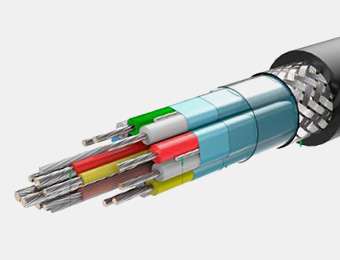 USB is a serial bus standard connecting computer system and external equipment, and also a technical specification of input and output interface. It is widely used in personal computer and mobile devices and other information communication products, and is extended to other related fields such as photography equipment, digital TV (set-top box), game machine and other related fields.
With the continuous progress of IT industry, USB has experienced the following stages:
Usb1.0:1.5mbps (192kb/s) low speed 500mA, Jan 1996;
Usb1.1:12mbps (1.5mb/s) full speed 500mA, September 1998;
Usb2.0:480mbps (60mb/s) high speed 500mA, April 2000;
Usb3.0:5gbps (640mb/s) over speed 900mA, November, 2008;
Usb3.1:10gbps (1.25gb/s) superspeed+ 5a, december2013.
The latest generation USB 3.1 Gen2 has a transmission speed of 10gbit/s, three-stage voltage of 5v/12v/20v and maximum power supply of 100W.
And with usb3.1, the C-type USB interface: USB type C has a trend of unified consumer electronic interface, and has occupied the top of flagship mobile phone interface of major brands in recent years.
1、USB type C appearance and pin definition
USB type C interface has been widely used because of its thin, positive and negative pluggable advantages. Let's first look at the disassembly diagram of USB type C connector.
From the disassembly above, there are 12 pins on the USB type C interface, and the pin arrangement is as follows:
Type C bus head pin arrangement diagram
Type C pin arrangement
2、USB type C three working modes
There are three modes of operation in usb3.1:
1:DRP。
The main host/device can be freely converted, similar to a computer or MacBook.
USB type C DRP working mode diagram
2:DFP。
Down end, main host end (pull up resistance).
USB type C DFP working mode diagram
3:UFP。
The upstream end and the device end (pull-down resistance).
USB type C UFP working mode diagram
3、USB type C technical requirements
The fast transmission of USB type C also requires wire rod, and 21 core oxygen free copper transmission conductor ensures the transmission of high current. The following figure shows the green type C data line of usb3.1 specification. The internal core has 21 cores, 16 cores more than USB2.0, which meets the high-speed transmission standard and 100W output power of usb3.1.
4、USB type C product status
At present, the electronic products with type C interface mainly include mobile phone, tablet, laptop, and digital accessories such as data line, charging head and mobile power supply. Most of the products still have transmission speed of USB2.0 and USB3.0. Huawei mate20 series with SCP super fast charging function, equipped with type C data cable of exclusive type C charger, can pass 5A current, with power up to 40W, but the output power is still far from the maximum 100W of USB 3.1 Gen2. In this respect, it needs the progress of technology and the joint efforts of the industry.
Finally, the paper lists several key parameters
Usb3.1:usb3.1 specification is divided into usb3.1 GEN1 and usb3.1 Gen2. Currently, apple mainstream MacBook belongs to usb3.1 GEN1, with a bandwidth of 5Gbps; Only the bandwidth of usb3.1 Gen2 specification can reach 10Gbps;
Host side: USB host is the USB main device, and can read data from the device connected to the host side.